Here are a few humble bits of home-made and handmade goodness that we hope you love!
Take a goodie home and help fund a horse and wagon wish.....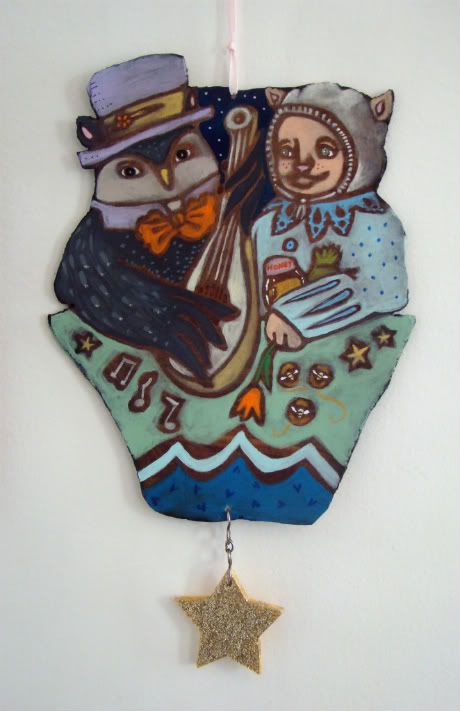 The Owl And The Pussycat
Based on the beloved poem by Edward Lear, this One of A Kind artwork/hanging is made by Zan Asha.
It is first cut to Zan's original pattern, from wood using, a jigsaw. It was then BURNED 'round the edges to achieve it's final shape. The piece was then dark stained, and then painted in LAYERS to achieve a light and dark effect.
As a final touch, there is a heavily glittered 2" diameter star hanging via a metal "S" ring. It's super-sparkly, along with several luminescent gold accents which have been added to the "honey" and "bees" in the piece. The piece is 7" x 6" at it's widest point.
This piece will come signed and dated along with a certificate of authenticity. Many hours of labor and love went into this piece!
The main poem which the art is based on is as follows:
"The Owl and the Pussycat went to sea
In a beautiful pea-green boat,
They took some honey, and plenty of money,
Wrapped up in a five pound note."
$70.50
FREE SHIPPING via priority mail
. Insurance is optional. Please contact me if you would like to add this feature to your mailing options.
*Proceeds go towards the Beyond Vagabond Project!
THE STAR MESSENGER
The Star Messenger is a truly unique OOAK folk art piece. This enchanted little piece shows a magical elfkin (I call them Vagabonds) riding his trusty crow, while strewing stars to the sleepy village below.
Painted directly on a 10" x 7" log slab, and based on my original drawing, the wood was first given a base coat, stained in hues of blue and then painted in LAYERS to indicate light and dark areas. As a final touch the areas where the stars are given glitter, as well as the star on the Vagabond's hat, and luminescent gold paint is used on the hat star and hat itself. The elf's cheeks and some of the landscape is slightly tinted with colored pencil. The whole piece is has a matte varnish lightly applied for the art's longevity.
This piece will come signed and dated by me, and comes with a certificate of authenticity. Much labor and love went into this piece. I hope you enjoy it!
$72.50
FREE SHIPPING via Priority Mail
. Insurance Optional, please contact me if you'd like to add this to your mail